I'm a great supporter of this small part of the world; Northern Ireland has produced so many great things and people and continuing on this theme I was delighted and honoured to be invited on the inaugural Official McCombs Coaches Grubcrawl. As one might imagine, this is a different take on a very popular theme.
Devised by two of Northern Irelands finest coach tour operators, Caroline and Ronnie McComb from Co Antrim, they have put together a tour of some of the best food producers and restaurants our country has to offer. My Grubcrawl commenced in Glengall Street in Belfa
st.
I boarded my coach and straight away I realised I was in good company. A pristine Mercedes coach with Wi-Fi, full leather seats, TV and a fridge. Clearly this was a cut above the rest!
We left Belfast and headed in to the beautiful hills of Co Down where country butter is handmade is made for some of the most prestigious shops and restaurants in the UK. The only interest of Abernathy's is to create an unforgettable taste and flavour as far removed from mass-produced butter as night is from day. No Tesco, Sainsbury, Asda of even Waitrose, these artisan makers have taken the bold step of staying authentic, special and they refuse to go mass market. Available from small local farm shops to Fortnum & Masons.
ABERNETHY BUTTER is appreciated by the best Michelin starred restaurants from Heston Blumenthal's, The Fat Duck to Marcus Wareing at the Berkeley in Knightsbridge. And yes it's all done in Dromara in Co Down.
Watching Alison and Will present their craft to the people on my tour, was truly inspiring. Their passion, commitment and pride in their product shone through. They are dedicated crafts people who are committed to a perfect product. Abernethy Butter is made by hand using traditional methods. The cream is bought from a local farmer, who lets his cows graze on the green fields in the Lagan valley and pasturises his own milk.
The cream is churned until it separates into butter and buttermilk. Then the butter is put into a large bowl and washed by hand until the water runs clear. This is to remove all the buttermilk, (which would sour the butter if left in) The only thing they add to the butter is a pinch or two of salt. The butter is then patted by hand out into rolls ready for wrapping.
SECRET TO SUCCESS
The secret to their success is nothing. Because they add nothing to their product, no rubbish, no additives, nothing other than pure goodness, love and respect to a tradition that has gone on for hundreds of years and a small pinch of salt.
Will and Alison are ambassadors for this part of the world, better than any trade mission or politician up in the big house, these are ordinary decent people who have and continue to promote Ulster in the best possible way.
Make sure you visit their wonderful workshop. See http://abernethybuttercompany.com
The second stop on my Grubcrawl was the amazing Kilmegan cider based in Dundrum, Co Down. Under a wall of brambles, some twenty feet high, in 1967 Maurice Boyd discovered an old orchard that had been planted some seventy years previously beside the old farmhouse he had purchased.
With the back drop of the majestic Mourne Mountains near the village of Dundrum. In 2009 Andrew and Karen decided to try and make a batch of cider.
Using a strong bucket and a 4" wooden fence post, they laboured for hours to mash up enough apples to put into his fathers old wine press and they produced a gallon or two of juice. They carefully placed the juice into a demijohn, ad
d some champagne yeast, stuck on an airlock and let nature take its course.
A few months later the juice had cleared, fermentation had stopped and hey presto the first batch of Kilmegan cider was made.
Tasting fresh and crisp and as natural a product as you could wish for and using no added acids, sugar, water or concentrates this was REAL CIDER.
You might see a theme here, and as with Abernathy's butter, less is definitely more. Although Kilmegan is now using a proper apple mill and rack and cloth press their principles have not changed.
As Andrew said "Get the proper blend of apples, extract the juice, ferment and leave to mature for six to eight months and there you have it, pure real cider made with 100% fresh pressed juice, you will taste the difference." So if you are after the taste of real cider check out kilmegancider.com.
ITS FOOD TIME 
Sitting on the Killinchy Road just outside Comber is a superb little restaurant called The Poachers Pocket. This is one of three gastro pubs that Danny Millar is in charge of. A chef with impeccable lineage he has brought, his winning ways to Lisbane, just outside Comber.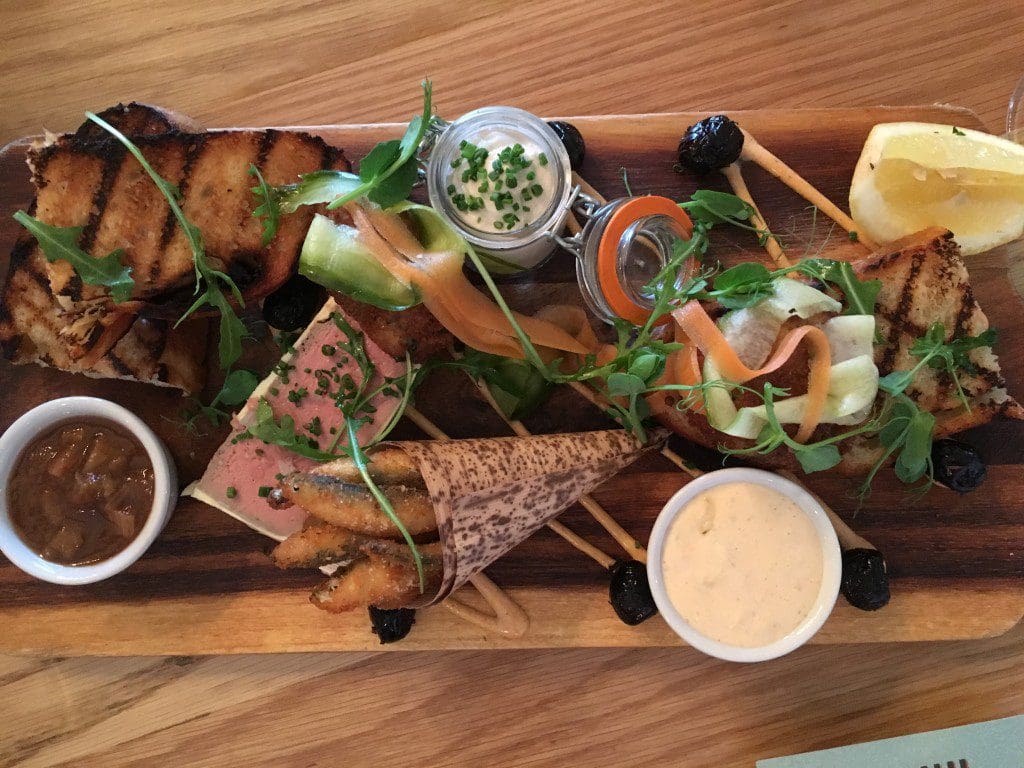 A superb pub which retains it authentic pub craic front of house, and behind the frosted glass is a world of superb food. Its not hard to understand why McCombs Grubcrawl included this fine eatery on their new Grubcrawl. The food service and surroundings are superb. Ill be back again and again.
So good is this place I will let some of their accolades speak for themselves.
If you want to see some amazing places in Northern Ireland, sample some of the finest products this wonderful country has to offer and eat in some of its best eateries, then you need to take a McCombs Grubcrawl. I know I will definitely be back on a tour before to long. Visit http://www.mccombscoaches.com/