DAY ONE
BREAKFAST: Head to R-Street Corridor for breakfast and shopping
The city is home to a number of contrasting 'old meets new' neighbourhoods. R Street Corridor is an up-and-coming district with some of the best art studios, dining and entertainment that Sacramento has to offer. Head to Beast + Bounty for a delicious way to start the day, where breakfast options include Charred Avocado Toast, Salmon Hash and Buttermilk Biscuits n' Gravy. Follow this by exploring the boutique stores that line the street, taking home in the former rail-based buildings. rstreetcorridor.com
MORNING: Tour the State Capitol Building
In 1854, Sacramento was chosen as the state capital as it emerged as a key transportation centre during the California Gold Rush. Following this, the magnificent State Capitol building was constructed and visitors can now take a number of tours of the building, including a look around the historic offices and legislative chambers. The building is surrounded by 40-acres of beautiful gardens, with trees and shrubs from all over the world. capitolmuseum.ca.gov
LUNCH: Enjoy lunch at The Bank in Sacramento's historic Bank Building
2019 has seen the reopening of Sacramento's historic Bank Building as The Bank, a swanky three-storey food hall filled with over a dozen restaurants and cafés. Complete with a spiral staircase and gilded ceilings, the beautiful building is home to diverse culinary offerings including, Station 8 and Poke Bros, as well as the popular Beer Vault, with 90 self-pour taps from local, national and international breweries. thebank629j.com
AFTERNOON: Wine tasting at The Old Sugar Mill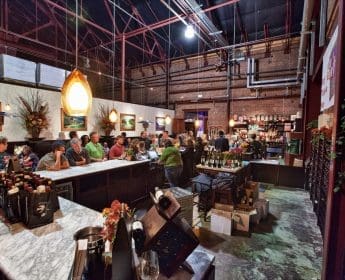 The Sacramento Valley is home to 13 American Viticultural Areas, where many vineyards (spanning 120 miles) offer tastings for a minimal fee. To experience the taste of a wide variety of wines from the region under one roof, the Old Sugar Mill – located 15 minutes from downtown Sacramento – is home to 15 unique tasting rooms from local wineries, including Clarksburg Wine Company and Elevation Ten. Tasting fees for onsite wine tasting rooms will vary from $5-$10. oldsugarmill.com
DINNER: Dine at the recently opened Camden Spit & Larder
Recently open at 555 Capitol Mall, Chef Oliver Ridgeway debuts Camden Spit & Larder, a modern London-inspired eatery in Downtown Sacramento. Deriving personal inspiration from his London-born roots, this cosmopolitan eatery is dedicated to showcasing the pristine ingredients of the surrounding region with bold designs. Highlights on the menu include locally sourced caviar with crumpets, Alaskan halibut and royal trumpet mushrooms. camdenspitandlarder.com
DAY TWO
BREAKFAST: Grab a coffee and pastry at award-winning Temple Coffee Roasters
Stop by one of the five Temple Coffee Roasters locations in Sacramento for a taste of award-winning blends and start the day with a cup of sustainable and ethically sourced coffee and a freshly baked pastry. The largest, most adventurous location is on 22nd Street in Midtown, with full outdoor patio seating and a floor made up of over 500,000 hand-laid pennies. templecoffee.com
MORNING: Explore the city's diverse murals on foot
Sacramento is home to more than 450 murals, and each year in August, the popular Wide Open Walls festival celebrates the relevancy and diversity of street art, by transforming walls throughout the city with colourful interpretations. Throughout the years, the festival has enlivened neighbourhoods like Downtown, Midtown and North Sacramento, with colourful, eye-catching works of art, a perfect way to get your bearings and see Sacramento on foot. wow916.com
LUNCH: Sample the diverse vegetarian menu at Mother
Recognised with a Bib Gourmand award – good quality, good value cooking – in the recent California Michelin Guide, Mother offers a wide selection of vegetarian favourites, including veggie standbys to Southern staples with a twist. Favourites include the 'Chicken' Fried Mushroom Po Boy, Garden Ratatouille as well as the Salted Chocolate Chip Cookies, which are served in a brown paper bag stamped with the chef's face. mothersacramento.com
AFTERNOON: Explore the streets of Old Sacramento
A visit to Old Sacramento – the city's historic waterfront neighbourhood – will take you straight back in time to the Gold Rush era, complete with rustic buildings, wooden sidewalks and horse-drawn carriages. Visitors can also head to the Sacramento History Museum to learn about the city's rich and diverse history, with interactive exhibits that bring to life the people and events of Sacramento and its unique place in history. The museum also offers an Underground Tour, to show how the city lifted itself up out of the flood waters during the 1860s and 70s. Whilst in Old Sacramento, visit Fanny Ann's Saloon, Delta King Riverboat and the California State Railroad Museum. oldsacramento.com
DINNER: Enjoy a Michelin-star meal at The Kitchen
Recently awarded a Michelin star in the 2019 California Michelin Guide (and the only one in Sacramento), The Kitchen serves a five-course fixed-price dinner menu based upon a twelve-month seasonal framework, using fresh, locally sourced ingredients. The executive chef and staff present the meal with a lively, theatrical demonstration and guests are invited to sample bites at the chefs' table during courses. thekitchenrestaurant.com
TOP TIP: If travelling on a Sunday, make sure to not miss the Sunday Farmer's Market – one of the largest in California – filled with multicultural farmers offering familiar and unusual produce.
Getting there: Flights to San Francisco (1.5 hour drive from Sacramento) with Virgin Atlantic start from £315 per person return. www.virginatlantic.com
Where to stay: Rooms available at Kimpton Sawyer from £172 per night. www.sawyerhotel.com
For more information on Sacramento: visitsacramento.com.